RENATA ELIS CREATIONS
BUDGET-CONSCIOUS
|
SINGLE SET
|
CHARACTER-DRIVEN
MULTICULTURAL STORIES
|
INTERNATIONAL AUDIENCE
RENATA ELIS
Playwright & Award-winning Screenwriter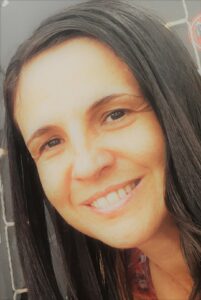 Brazilian-born American playwright and screenwriter enjoys developing characters with diverse backgrounds and stories that have social, political and psychological depth reflecting her international worldview while using humor to add levity to thought-provoking themes.

Renata holds a BA in Performing Arts from Arizona State University in Phoenix, Arizona and a Postgraduate Diploma in Secondary Education with a specialization in Drama from Murdoch University in Perth, Australia.
TV SERIES PILOTS
MindMate®

TV Script · Dramedy · 30 Pages
MindMate® is a female-driven dramedy TV series about a sexually fluid young woman who battles an AI that has outsmarted its creators to protect itself from being disconnected, manipulating people's memories and desires, in an ultimate power struggle between humanity and AI.
PILOT episode: After trying a new AI promising to vanish her recurring nightmares, a young woman suffering from PTSD finds herself trapped in an "AI-gonizing" hell and must fight to regain control of her life.
$enior Care

TV Script · Dramedy · 32 Pages
$enior Care is a multi-generational dramedy TV series about the Golden Care assisted living – a hotbed of greed – and its caregivers with questionable ethics, who exploit seniors through profit, kickbacks, and overcharging for services.
PILOT episode: Desperate to save her business and beloved elderly residents from her ruthless franchiser, a young woman commits a wicked embezzlement and is now trapped in a game of hide-the-fraud-and-don't-get-caught, to keep her secret safe and protect all she's fought for.
Narcissus Hotel

TV Script · Dramedy · 30 Pages
Workplace dramedy TV series about a diverse group of dysfunctional employees and a narcissistic hotelier who deal with everyday problems of running a hotel in Barcelona and are connected through a collective craving for approval.
PILOT episode: An overachiever hotel manager must learn to trust her new hire to handle a hectic cyberattack while discovering that her boss is behind it.
Green Union

TV Script · Dramedy · 27 Pages
A Geo-political workplace dramedy TV series about preservation and unfolds the tale of a diverse team of wildlife biologists who struggle to preserve their national identity, peace and the environment.
PILOT episode: After nearly losing the wildlife reservation that she runs, a pragmatic park director desperately seeks the European Union's aid to protect the sanctuary, but is caught off-guard when her sponsor takes control over the park.
Daydreaming Mom

TV Script · Comedy · 31 Pages
A female-driven half-hour comedy about finding balance between the responsibilities of motherhood and running a business from home, while being a fish-out-of-water expat in a bustling international city.
PILOT episode: Hoping to gain entry into an exclusive mom clique and find some companions for her restless kids, an expat lures a few local moms over to a fabricated charity event at her house. But as her guests arrive, she's forced last minute to take her biggest client on a tour of Prague while muddling through her guests, family and client.
ACCOLADES
Winner, LA Neo Noir Novel, Film, and Script Festival Best TV Script 2023
with $enior Care
Finalist, Creative World Awards 2023
with $enior Care
Semifinalist, The Golden Script Competition 2023
with $enior Care
Semifinalist, Big Apple Film Festival AGENTS AND MANAGERS Networking Lab 2023
with MindMate®
Semifinalist, NYISA2023 (New York International Screenplay Awards
with $ENIOR CARE
Winner, Hollywood International Diversity Film Festival 2022
with Daydreaming Mom
Winner, Hollywood Just 4 shorts BEST TV Script, May 2021
with Narcissus Hotel
Finalist, Creative World Awards 2022
with Narcissus Hotel
Finalist, Creative World Awards 2022
with Daydreaming Mom
Semifinalist, Big Apple Film Festival Screenplay Competition 2022
with Green Union
Semifinalist, New York International Screenplay Awards 2022
with Daydreaming Mom
Semifinalist, Creative World Awards 2021
with Narcissus Hotel